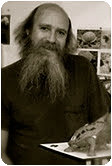 NANO LOPEZ — Look closely at Nano's bronze sculpture and one will discover artifacts from both man and nature in the bright colors of a Colombian marketplace.  Look closer still and discover a deep respect for life, clearly observed.  For Nano, the miracle of life exists at all levels.
Nano Lopez, originally from Bogota, Colombia, has shown his work and studied extensively in Europe.  He now lives in the Pacific Northwest.  His sculptural work is in private collections, major art galleries and public art venues worldwide.
Save
Nano Lopez
"Sherlock (small)"
Size: 5.37 x 5.5 x 2″
Bronze Sculpture
Inquire about this piece
Nano Lopez's Notes on "Sherlock":
"A well weathered Welch terrier. He's extremely experienced in the art of finding things, that's why for many years now he's been working as a detective. Sherlock refuses to give up his pipe, doesn't mind rainy weather or cats, and he used to be a part of the K9 units, and on Saturdays he just goes fishing." – Nano Lopez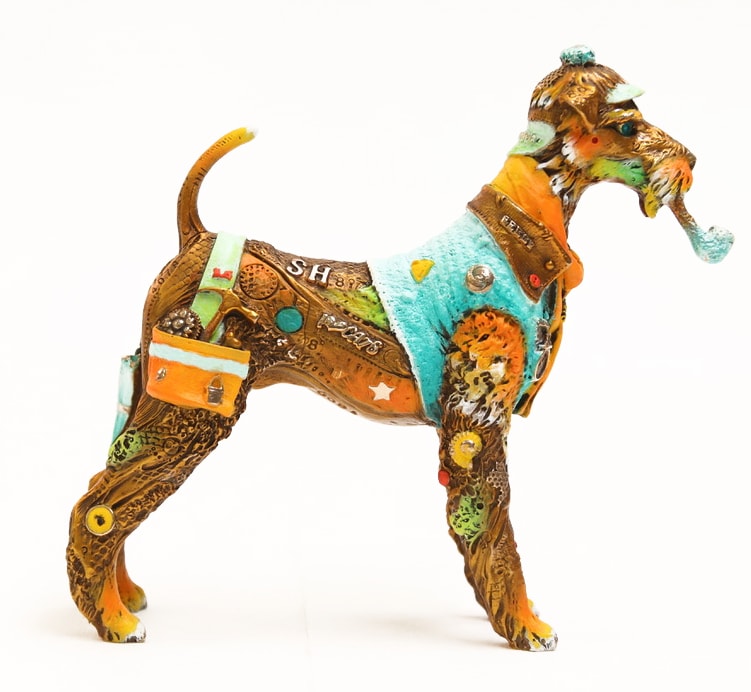 It All Begins With The Sketch!
For Nano Lopez, the entire sculpting process begins with his initial conceptual sketches of Sherlock.
He then creates a small working model in clay. Following that, he will then sculpt the actual piece.  To see Nano Lopez's full process, click here:  Nano Lopez's Process
In this artistic process, Nano integrates organic textures and human made objects into his bronzes to create pieces of art that reflect the same depth and richness he sees in the world around him.
The sculptures unique elements become part of the final piece in several ways. They may be embedded, applied to the surface, or even indented in the actual clay.
The bronze sculpture is actually created by a two thousand year old process, known as the Lost Wax Process.
Contact us!
For more information on "Sherlock (small)", please feel free to contact us at the gallery.  We are here to answer any questions you may have about this piece.  Here are some ways to contact us:
Phone (toll free): 336-855-8500
Email: [email protected]
Inquire about "Sherlock (small) " : click here

.
.