We talked about Hats and about the life of Dr. Seuss in our last blog.  Now, I want to focus on the art itself.
The Hat's Off to Dr. Seuss and The Secret Art of Dr. Seuss Exhibition coming to The Art Shop April 4 – 19 features Illustration Art, Secret Art, his Taxidermy Collection as well as Bronzes honoring Seuss characters.
Seuss's Illustration Art is exactly as it sounds – the art of Dr. Seuss from the books we read as kids, we read to our kids and now OUR KIDS are reading to THEIR KIDS.
The Secret Art of Dr. Seuss is beyond the art you've grown up with from the pages of his books.  It shows a side of Ted Geisel, aka Dr. Seuss, you've never seen.  It's the art he created at night for his own enjoyment – he was an "illustrator by day and a surrealist by night."  .
This collection, created over a period of more than 60 years, still depicts outlandish creatures in otherworldly settings and still has the Seuss humor and the often deeper meaning his characters portrayed.  It breaks new ground, using colors beyond the primary color-palette of his children's books. In The Cat in the Hat, for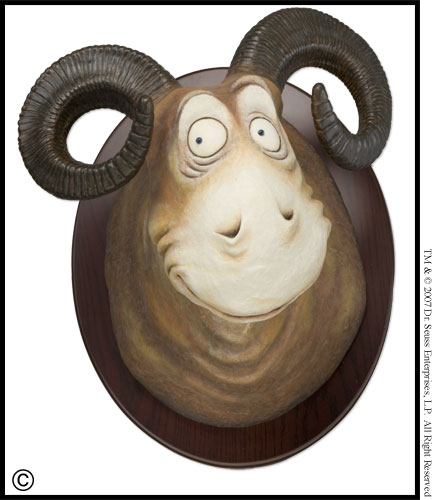 example he carefully selected saturated reds and blues to capture and maintain the attention of six-year-olds.
In his Taxidermy Collection, Dr. Seuss moved from two-dimensional artwork to three-dimensional sculptures.  He started this collection in the 1930's and what is most unusual was his use of real animal parts.  His father was superintendent of the Forest Park Zoo and allowed him access to beaks, antlers and horns from deceased animals. After he created inventive creatures such as the "Semi-Normal Green-Lidded Fawn," Look Magazine dubbed him "The World's Most Authority on Unheard-Of-Animals."
The Bronze Collection features the work of artist Leo Rijn, chosen as the inaugural sculptor for the Dr. Seuss Tribute Collection I because of his superb work with Tim Burton, Ang Lee and Steven Spielberg.  He was commissioned by Universal Studios to develop and oversee the creation of scale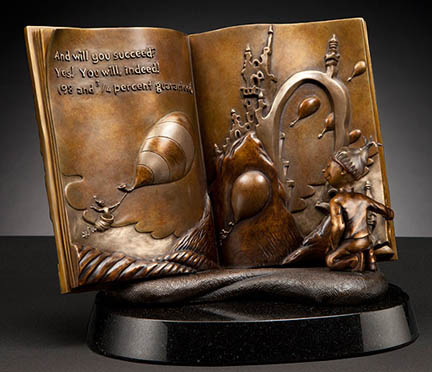 models for the Monumental Dr. Seuss Sculptures at Seuss Landing in Orlando, FL.
These works are best viewed in person, so plan to join us at the gallery between April 4th and April 19th. If you're too far away, you can see them on-line.
Dr Seuss always dreamed of sharing this collection with his fans and he trusted his wife, Audrey, to carry out his wishes after his death. Audrey Geisel believes her husband deserves to be recognized as an artist in his own right – beyond merely as an illustrator and author of children's books. We think this tour will achieve that goal.  Join us and see for yourself.