Custom Framer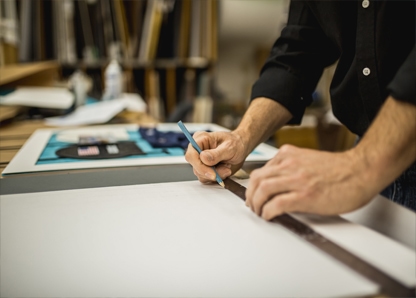 The Art Shop is seeking an experienced picture framer. Position responsibilities include but not limited to:
Essential:
Engaging in design consultations with framing customers
Strong sense of urgency to complete work efficiently and accurately
Cut frames using a pneumatic double miter saw.
Join frames using a Cassese underpinner.
Some table saw work and compound miter saw work
Cut and clean glass and acrylic
Final assemble and completion of frame
Ability to work independently
Must have a positive attitude and work well with a team
Ability to formulate decisions quickly and effectively
Desirable:
Use of vacuum dry mount press
Proper hinging and mounting techniques
Experience in packing and shipping artwork.
Experience in art installation (must be able to lift up to 25lbs)
Experience with the Wizard Mat cutter
Experience with Lifesaver Software
This is a full-time position.
The Art Shop is open Monday through Friday 10 am – 6pm and Saturdays 10 am – 5pm.   Some Saturdays required.
APPLICATION INSTRUCTIONS:
Please send a resume and short answers to the questions below to:   [email protected] with "Custom Framer" in the subject line. No phone calls please.
What appeals to you specifically about The Art Shop?
Tell a professional anecdote about yourself that exemplifies your value in a team setting.
What is your most memorable framing experience to date?