Lenny and I live in about 2000 square feet. Since our house has 4180 square feet, we have over 2000 square feet of unused space ever since our kids grew up and moved away. We figured it was time to downsize.
In staging our house for resale, our realtor recommended moving several pieces of furniture to the attic to make the rooms look larger. Gone went comfortable chairs, end tables that belonged to grandmothers and favorite knick-knacks. Brass dates a house, we were told, so I changed every doorknob and hinge in the house
– a skill I quickly learned to save the $1,000 a contractor was going to charge.
I must say – it looks great.
Staging also required that we remove all of our family photos. Some people don't have the ability to see themselves in your house if there are photos of other people living there. (What a lack of imagination – I feel kind of sorry for those people, but I want them to buy my house, so I did it.) Our hallways were lined with framed family photos – it was like our own personal museum with photos of our kids as babies, Lenny and I as children and newlyweds and our parents, grandparents and great-grandparents. (Of course, once we took them down, there were holes, so we had to patch and paint.)
We now have to figure out which furniture and artwork we can place in our new much smaller house and which we have to sell, donate or give away. I'm having a difficult time thinking about that because nearly every piece of art and furniture holds a special place in my heart – a memory of where we got it or to whom it once belonged. They are like personal friends I don't want to lose.
That's going to be the hardest to decide.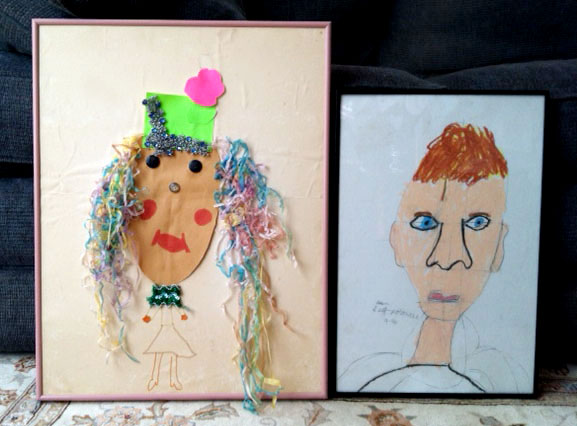 People who have successfully downsized say a few months after they got rid of treasured items, they don't even think about them. They took pictures before letting them go and now they feel free. I did that with my children's framed self-portraits and will do that with every piece that goes.
I'm looking forward to feeling "free" – I'm not there yet. I really miss my "things." The items that keep others from imagining themselves in your home are what make a house YOUR home.
When we move and re-hang our art and family photos, it will then feel like home. I'm not just saying this because I own The Art Shop. Living temporarily without art and framing make me realize what they bring to a home and make me proud The Art Shop does this for others.
Know anyone looking for a really nice 4 bedroom home?