That's what Gallery Director Andy McAfee always says when he's faced with an art hanging challenge. Trust me, if he can bend a straight piece of art in its frame on to a curved wall (which he did several years ago), he can handle about anything. I thought you might like to see Andy & Chris in action on a very challenging hanging project.
Recently, a client brought in four very large Chinese wood panels, each of which were to be framed and hung individually. Each panel measured seven feet by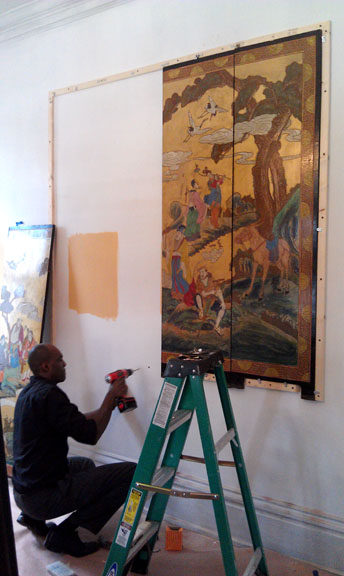 eight feet before the frame was added. The first challenge was how to transport it since the finished size would be too large to fit in our delivery van. The challenge was met by joining and assembling the frames on site (after cutting them at the gallery). Doing this has its own challenges. They also rented a larger truck to transport the panels.
Another challenge was how to attach the panels to the wall. Channels were cut into the frame to hide the clips needed to attach the panels to the frames. Each panel was placed on a wood shelf and bracketed in place to preserve the panel in its original condition. Mirror straps were used on the frames and they were secured at the top and bottom to keep them flush with the wall.
That is a quick summary of just one project, among many, in what can be a very involved process – many times requiring ingenuity on site. The finished project took about eight man-hours, was beautiful and the client was very pleased with the results.
Do you have an art hanging challenge? Give us a call and watch our staff in action.