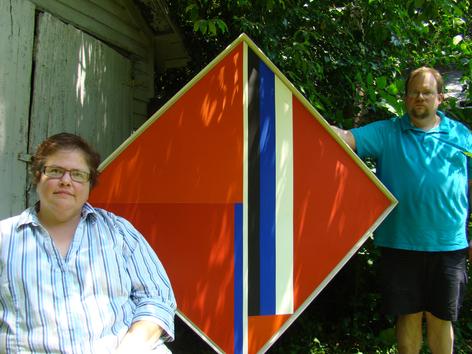 Did you hear about the woman from Concord who, while shopping for a blanket at a local Goodwill store, found two large canvases selling for $9.99 each? She thought the pieces were ugly and dated, but bought them to paint over since she was an artist herself and canvas that size is expensive. Her friends noticed a sticker on the back of one of them from UNCG's Weatherspoon Gallery and suggested she do a little research before painting over them.
An internet search told her the artist, Bolotowsky, was one of the premier abstract artists of the 20th century. She contacted Weatherspoon who confirmed the painting was loaned to the museum by Burlington Industries, Inc. and displayed at a show in 1979. She then sent photos and the Weatherspoon documentation to Sotheby's in New York who agreed to sell the painting for her. It sold recently for $27,500 at auction. The woman has been out of work for quite some time and has health and financial issues, so it's easy to feel happy for her good fortune.
The purpose of this blog is to focus on the poor couple who donated the piece to Goodwill in the first place. They had purchased it from Burlington's liquidation sale to put in their basement, but discovered it was too large. They tried to sell it at a church yard sale, but no one bought it, so they donated it to Goodwill. They must have seen the Weatherspoon sticker on the back, but didn't do any research to see what they had. The woman who will profit from their mistake has offered to paint a picture of their recently deceased cat since animal paintings are her specialty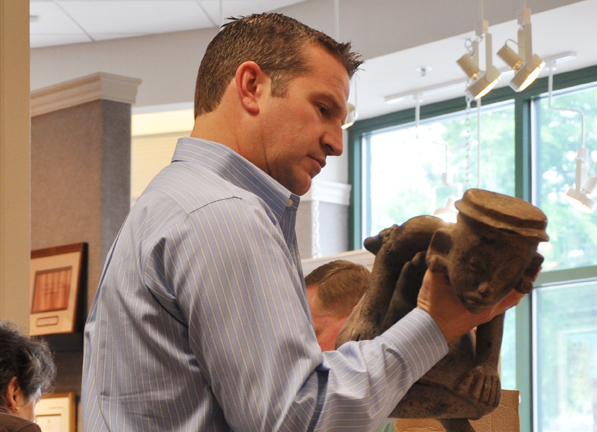 The reason this is newsworthy is because it happens only once in a blue moon. In most cases, art sold at Goodwill or at a garage sale is closer to Elvis on black velvet than to a $27,500 piece from a premier artist. At The Art Shop, we get calls nearly every day from people wanting to know if what they have is "worth anything." Most often, we tell people what they have has only sentimental value, but occasionally, we get to tell them their art has significant value.
We've discussed this in previous blogs, but it bears repeating: Whether your art has sentimental or significant value, it needs to be evaluated. Original art needs periodic cleaning and revarnishing and paper art or photos framed many years ago may need reframing with conservation materials. You are the "steward" of your art and if you don't take care of it, the value of original art may go down and sentimental art or photos may not be around for future generations to enjoy.
We are always happy to inspect and evaluate your artwork. Bring it in or if it's too large, we make house calls. We want you to KNOW WHAT YOU HAVE AND KNOW WHAT IT NEEDS.