Tough Framing Project? Ask Chris.
Webster's defines "challenge" as "a stimulating task or problem." And that is what our Production Director Chris Taylor loves.
Whenever we have a framing question or tough framing problem to solve, the answer is usually, "Let's ask Chris."
Chris joined The Art Shop in 2000. Having studied engineering at NCA&T, he combines the analytical skills from his studies along with his nearly 20 years of framing experience to come up with a logical answer to our question or a beautiful solution to a framing problem. Unlike most of us, Chris has a left brain and a right brain.
Design, Color & Creativity
Not only can he figure out how to overcome technical issues, his eye for design, color and creativity are outstanding. Shown here are just a few examples of some of his beautiful work. If you want to create something unique or have an item that will be a technical challenge, Chris should be your go-to guy.
VIEW MORE FRAMING EXAMPLES
Award Winning Framing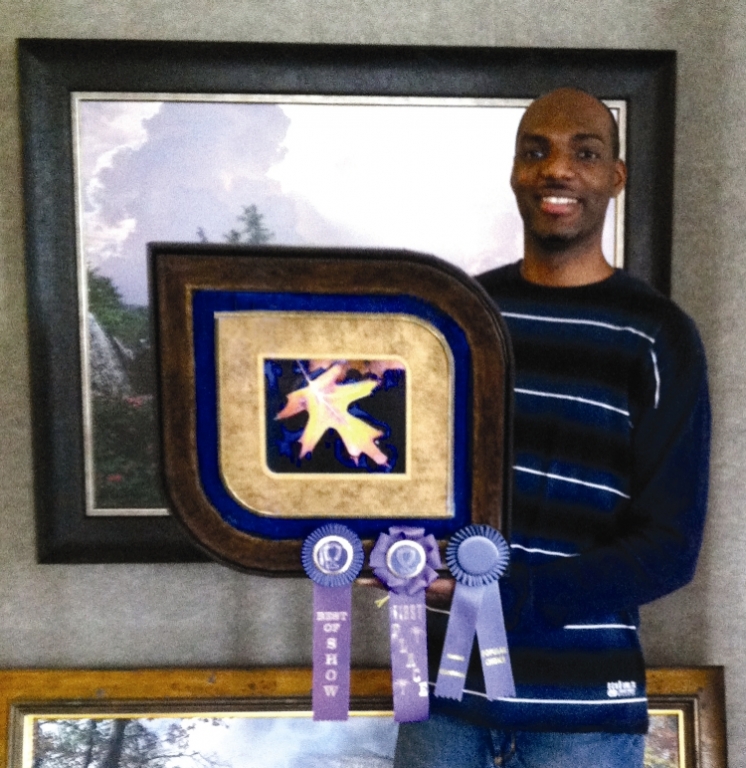 Another definition of a challenge is "an invitation to compete." Chris loves to compete in framing competitions put on by the PPFA (Professional Picture Framers Association). For the 2012 PPFA International Framing Competition held at the Annual Convention in Las Vegas, everyone was given a print called "Fall Leaf/Blue Sky." Chris's entry won Popular Choice in the international competition after winning First Place and Best in Show regionally. To win Popular Choice, you have to be voted on by the professional framers and gallery owners attending the convention. Chris created a beautiful multi-angle rustic wood shadowbox which required a skill recognized by his peers. In 2008, Chris won First Place and Best in Show in both the Print (everyone framed the same necklace) and the Open International Competitions (framer's choice).
When not working, our award-winning framer enjoys being with his family – his wife, Tiffany, and their three children – Christian, Shaha and Caleb.