Lenny & I pride ourselves on being a family business. We are the 2nd generation of Dolins to own & operate The Art Shop having purchased it from Lenny's father, Stan, in 1989. Stan had owned & operated the store since 1964. That's why it's especially exciting for us to carry a 2nd generation artist – Vidan, nephew of the late internationally renowned figurative artist, Pino.
ABOUT THE ARTIST

Vidan, born Vittorio Dangelico in Perugia in 1965, showed artistic talent and a great passion for art at a very early age. Encouraged by his parents and his uncle, Pino, he trained at some of the finest schools in Italy. Pino moved to the US in 1979 and Vidan followed in 1988. He followed in his uncle's footsteps and took work as a cover illustrator for romance magazines. For 15 years, his artwork appeared on book covers for such publishers at Doubleday, Harper-Collins, Harlequin and others as well as for Vogue Italia and MaryKnoll greeting cards. His goal was always to be recognized as a fine arts artist. Finally, in 2004, major galleries began to display his work. He joined his uncle in his studio and the two painted side-by-side until Pino's death in 2010. Vidan is an extraordinarily talented artist.
His style has been compared to the early Impressionists, Monet and Gauguin. His portraits, often sensuous, depict a wide range of emotions in the subject and the vibrant colors he uses bring his paintings to life.
UPCOMING SHOW
Come see for yourself at Vidan's first appearance in North Carolina and at The Art Shop on Friday evening, May 4th, 2012. There will be new originals as well as limited editions on canvas.
If you've never been to one of our artist's shows, you're missing out on a wonderful evening. See our website for more information and to RSVP to the show.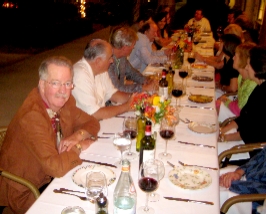 The Art Shop will be hosting a private dinner with Vidan at one of Greensboro's finest restaurants just prior to the gallery reception on May 4th.
Space will be extremely limited. If you would like to join us for this event, add a comment below. Send us a paragraph or two about why you would like to have dinner with Vidan. If you are a collector, be sure to tell us about your collection.

Please make certain that you are available on May 4th at 5:00 p.m. for dinner and 7 – 9 p.m. for the show at the gallery. We will contact you by April 30th if your entry is selected.