Whether it's a photograph, an oil painting, a portrait, special object or a picture frame, antique or new, The Art Shop can restore your treasures.

We've restored canvases that have been shot, stabbed and burned and had every other kind of damage you can think of.
PHOTO RESTORATION
We can restore old faded and torn photographs and make them look like new.  Want your ex-husband or old girlfriend removed from a photograph?  We can do that too.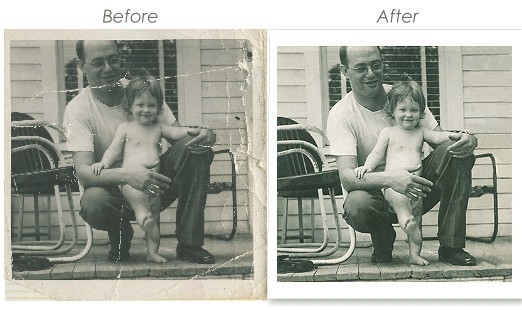 ART RESTORATION
Shown below is an antique oil.  We repaired and cleaned the left side and left the right side in its damaged condition so you can see the comparison.
Our services include cleaning canvases, varnishing, repair of torn canvases and inpainting.
Restoration can be a tricky business and is best left to the professionals – otherwise, the outcome could be disastrous.  CLICK HERE to read about the now infamous amateur who attempted to restore a fresco of Jesus in a church in Spain that was over 100 years old.  Don't let this happen to you.
Trust your treasures to the experts at The Art Shop. Contact us for further information.