The Art Shop, originally established in 1899 as an art gallery and photography shop, is one of Greensboro's oldest and most well respected businesses.  Therefore, it was with great excitement that we recently introduced a new space, adjacent to the main gallery that features unique visual perspectives of North Carolina's rich scenery and history. Part of the inspiration behind the formation of NC Fine Art & Gifts is the abundance of great art being produced in our area. Our new gallery features an array of beautiful works, including fine art, pottery, and an assortment of locally hand-crafted gift items.

Directions to the Gallery
NC Fine Art & Gifts
(located right next door to The Art Shop)
3900 West Market St.

Greensboro, NC 27407
Click here for exact driving directions to our front door, courtesy Google maps.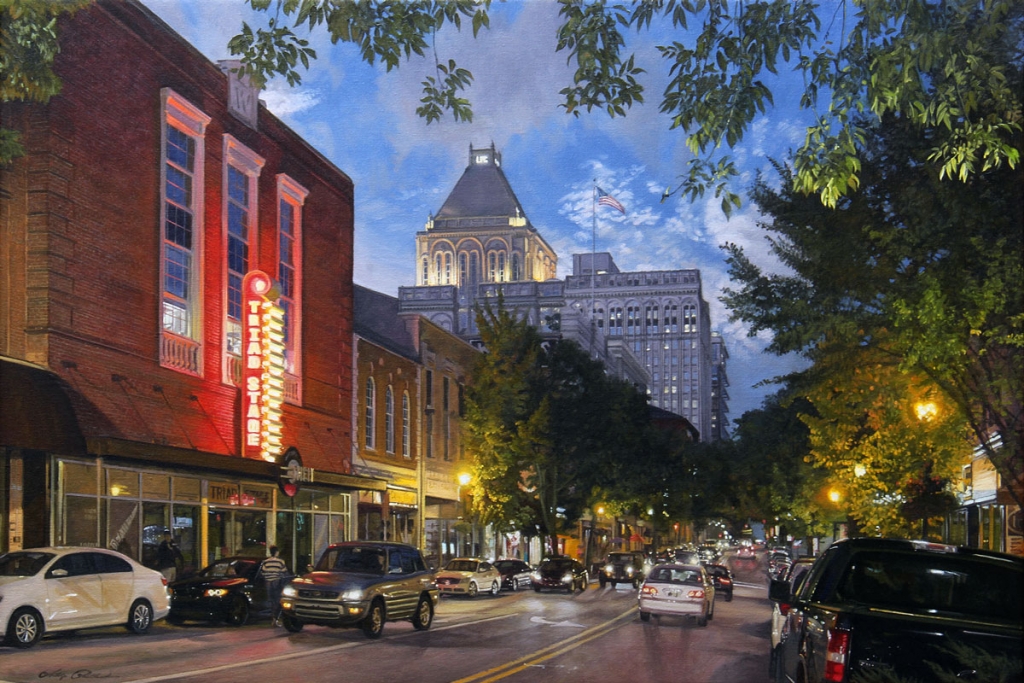 North Carolina artist Phillip Philbeck captures downtown Greensboro!
Signed prints & gifts prints are now available.
Print Size: 24 x 26″
Gift Print Size: 8 x 12″
Stop by the gallery or contact us for more info!
Phone: 336-855-8500
Email: [email protected]
Our new gallery features an array of beautiful locally hand-crafted gift items, including:



Stop by the gallery to view our stunning collection of artwork created by North Carolina artists. Many of these beautiful paintings feature recognizable scenes across the state, including downtown Greensboro, Cape Hatteras lighthouse, Old Salem, Ocracoke, Grandfather Mountain & the Old Well, Chapel Hill and many other locations across the state!

Looking for a painting of a particular location?  Call us and let us know.  We may have it in the gallery or be able to commission a piece with one of the many artists that we work with.
Keep up to date on exciting events going on at the gallery, including our holiday open house and artist shows, and also new products and paintings coming into the gallery.
Sign up to receive updates right to your email!

North Carolina Fine & Gifts held its Grand Opening on May 7, 2016.  The Guilford Merchants Association came out to celebrate the ribbon cutting. We love sharing photos of our new gallery and the wonderful art & gifts inside!
Check out our Instagram page! We posted photos from our Grand Opening, our gallery renovations, artists painting downtown Greensboro, new products made in NC, and much more!