If you've never had cancer nor know anyone who has or had it, consider yourself lucky. Also, consider yourself to be part of a very small minority. Statistics tell us less than 10% of the population falls into this category. This is certainly true at The Art Shop. I just lost my spunky 88-year-old mother to this dreaded disease in April.
This was not long after my husband, Lenny, fearless leader of The Art Shop, was diagnosed with his third bout of cancer in the last 13 years. You would never know it to look at him. He looks the picture of health and he's always been an avid cyclist and tennis player and plans to be so again. However, cancer can strike anyone and treatment takes its toll both mentally and physically.
What does this have to do with art and why am I revealing something so personal? I have to admit – it makes Lenny and me both a little uncomfortable to write about this. We don't want anyone to think we're trying to elicit sympathy or capitalize on his illness. We just want to raise money to help find a cure and to help prevent others from landing in our same boat. If explaining why we have a personal interest in this helps to raise more funds, then it will be worth a little embarrassment.
Cancer took both of Lenny's parents at an early age, one grandmother and a sister who has survived 20 years with the exact same cancer as his mother. The experimental treatment that has kept his sister alive is just the kind of advancement in treatment that can only come when there is research money available.
This was the impetus for our Charity Art Auction to be held Thursday, October 10th, from 6-8pm. More than sixty beautiful works of art will be available for bid with 100% of the profits to benefit The American Cancer Society. The artwork includes pieces by world-renowned artists such as Pino, Hessam, Kinkade, Fazzino, SH Lee, Howard Behrens and many others. You can preview these works on our website – www.artshopnc.com/charityartauction.html beginning September 27th.
If you can't join us in person, you can bid on line during the auction. As usual, we'll have great food and drink – delicious desserts and fine wine. Please RSVP at 336-855-8500 or toll-free at 888-336-3736 or at [email protected] so we have enough of both.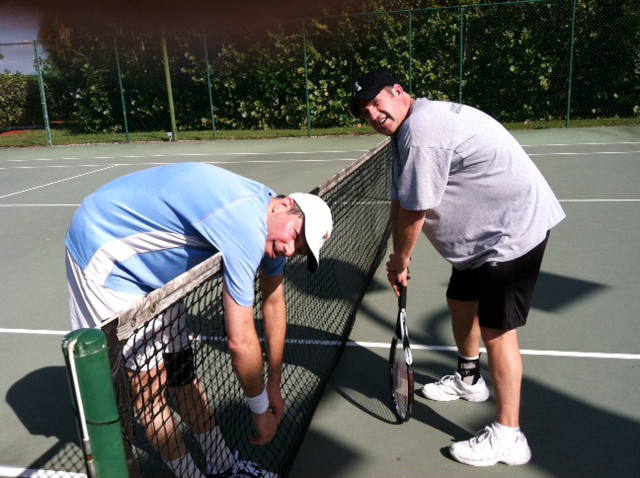 Hope you'll join us either in person or on-line to help find new treatments and someday maybe even a cure. The Art Shop and The American Cancer Society thank you!
(Lenny wants to play tennis again if for no other reason than to beat our Gallery Director, Andy McAfee. Lenny won this match but you'd never know by looking at this photo.)